Lawn Mowing in Woodbury
Lawn Mowing is a great service to provide to the great home owners and business in Woodbury, MN and that is why Hansen's Lawn Care should be your first choice for lawn mowing your home or business.  In addition to lawn mowing, Hansen's Lawn Care also provides other great services such as fertilizer and weed control, irrigation start ups and winterization, and snow plowing as well.
When you are a choosing a lawn mowing service, you will want to hire a lawn care provider who is dependable and provides great work.  Hansen's Lawn Care is right here in Woodbury.  This is important because you will want dependable service that is close by.  This ensures great serviceability. We also are fabric of our communities in Woodbury, and our lawn mowing service wants to ensure that your home or business is well taken care of.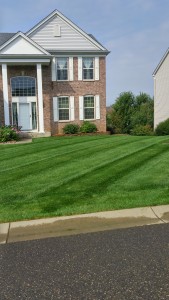 There are a couple things you should look for when hiring a lawn mowing service.  First, are they a legitimate company?  Anyone can mow a lawn, but consistency and dependability are characteristics that are not held by everyone.  At Hansen's Lawn Care, this is our mission, this is our vision; and we prove this week in and week out, providing quality and dependable service.
Another characteristic to look for in a lawn care service is dedication to the task at hand.  You will notice that our lawn care crews are incredibly concerned with providing a great lawn mowing service.  Our attention to detail is displayed by the high quality of our finished lawn mowing service.
Lastly, a great lawn service should display professionalism.  Not only is our equipment well maintained and in a neat appearance; but so are our crew members.  We wear uniforms, we wear protective equipment; we display professionalism because that is a direct reflection of who we are and what we want to display within our lawn care service.
So please, give us a call or email us, we would love to take care of your property!